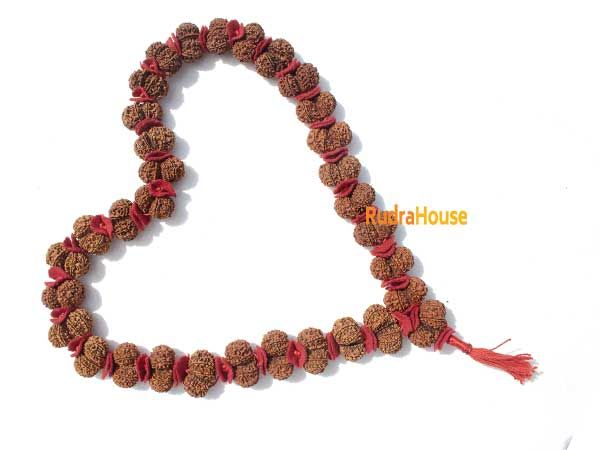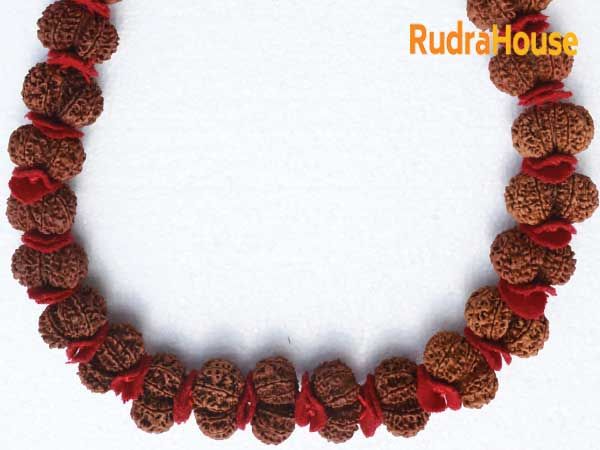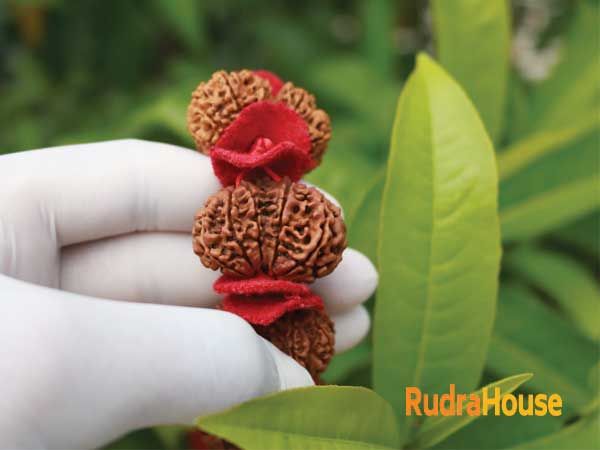 33 Pcs Gauri Shankar Kanth of Nepali Rudraksha beads is suitable for Mrityunjaya.
To understand the power of Rudraksha Kantha, first, you must know what Rudraksha Kantha is.
This combination of a single type of energy is called Kantha.
Power or energy of Kantha increase in the doubling sequence. When we add a Single bead of Rudraksha, the power or energy of Kantha doubles each time than before. We can understand by the example-
Power= (1, 2, 4, 8, 16, 32, 64, 128, . . .).
So Kantha of any Rudraksha beads is mighty when it comes to calculating.
All the Rudraksha beads in Kantha are selected and are significant.
Gauri Shankar Kantha Importance:
Lord Shiva and Goddess Parvati bless this Rudraksha Mala with a healthy and long life for the wearer or worshiper. The Ruling Planet of this holy Rudraksha mala is the Universe.
This mala is perfect for bringing luck and long life to the family. A holder of this holy Rudraksha mala in the family will never get any health or family issues.
The Gauri Shankar Rudraksha itself is a mighty and energetic Rudraksha bead. This holy mala is a thousand times more potent than one single bead of Shive Parvati Rudraksha.
Let's give a short check at the Importance and benefits of a single bead:-
It improves the relationship between the wearer and their life partner, friends, or relatives. Therefore, it brings peace and comfort to the family.

If a person worships this holy Rudraksha at their worshipping place, It destroys the pain and suffering and other earthly obstacles, and the peace and pleasure of the family are enhanced. This Rudraksha also controls the mind, helps in decision-making, and reduces stress & anxiety.

"without a wife, there is no life," so Lord Shiva is nothing without his wife, Goddess Parvati. This bead is a symbol of these two powers. A person seeking a life partner should seek the blessings of this Rudraksha. This Rudraksha bead protects people from sudden death by absorbing all the bad energy surrounding the wearer or worshiper. This Rudraksha is considered one solution to many problems.
The top benefits of a single bead of this Rudraksha are: Good for Relationship, Good for unity, Protect from sudden death, Suitable for joining the family, Good for partnership business, Bring success in life, Bring Wealth and Prosperity in life, and many more.
If this single Rudraksha bead can be so powerful and practical, you can think about the combination of 32+1 pcs of this holy bead and how powerful and effective it could be. Let's check the top benefits of this sacred mala:

Gauri Shankar Kantha Benefits:
Bless with long life
Bring good health
Bring unity to the family
Save from Sudden death
Save from accidents and any unfortunate things.
Bless with every happiness in the family.
One single holy mala is suitable for all family members.
Give Moksha to each family person.
It is suitable for meditation and concentration.
Gauri Shankar Kantha wearing and keeping rules:
This holy mala should be at home in the puja room or where valuable things are kept, such as a cash box or jewelry box.
It is good to wear on a birthday; any person in the family can wear it on their birthday.
Ahead of the family can wear this holy mala on special puja at home, such as Rudri puja, bhajan kirtan, or some other puja performed at home or office.
It can be worn during meditation and yoga.
It can be worn by a person who has a health problem.
You may also like to have the most powerful Rudraksha mala, which has all the Nepali rare and all the Rudraksha beads from 1-21 Mukhi and Trijutt. So you will love to have this holy mala called Indra Mala Rudraksha.

Gauri Shankar Kantha, also known as:
Gauri Shankar Rudraksha Kantha
Gauri Shankar Mala
Gauri Shakar Rudraksha Mala
Gauri Shankar Kantha Mala and Gauri Shankar Siddha Mala
Gauri Shankar Kantha Price:
Rudrahouse provides high quality and big sizes of Rudraksha at a minimum price.
We don't compromise with quality. On the contrary, we understand the full Importance of this holy bead, and devotee emotion feels attached to it.
Our expert team selects all our sacred beads stored in high care.
We ensure all holy products get enlarged at Pashupatinath Temple before shipping so that our valued customers can get the full benefits of those sacred products. The cost of holy bead Rudraksha depends on Rudraksha's quality and size. So we offer this sacred Rudraksha Kantha for $4,500/-.

How to use Gauri Shankar Kantha to get full benefits with three simple steps:
1. Wash this holy mala with cow milk, Ganga Jal, Mansarovar Jal, or any other Holy water. This process should be done on "Monday" after you get the Rudraksha.
2. Hold the Rudraksha into your Hand and chant Mala Mrityunjaya Mantra
"Om Tryambakam Yajamahe
Sugandhim Pushtivardhanam
Urvarukamiva Bandhanan
Mrityor Mukshiya Maamritat"
Or chant the Mantra "Om Namo Shivaya 108 times minimum. It will make all Shakti Jaguruk (The power or energy will get activated)
3. The one is most important: Before wearing these holy beads, don't forget to touch the feet of your elders ( Charan Sparsh). That is very important in Hinduism. You will get blessed and have that will make your soul pure, and you will get the full benefits of holy Rudraksha.

Buy Now; this holy Rudraksha Kantha mala will bless God and Goddess in life!
| | |
| --- | --- |
| Origin | Nepali Rudraksha Beads |
| Total Beads | 33 Beads |
| Symbol | Lord Shiva and Goddess Parvati |
| Good For | Long and healthy life. |
| Chanting Mantra | Maha Mrityunjaya Mantra |
| Rulling Planet | Universe |
| Rudraksha Color | Natural |
| Certificate Of Authenticity | Included |