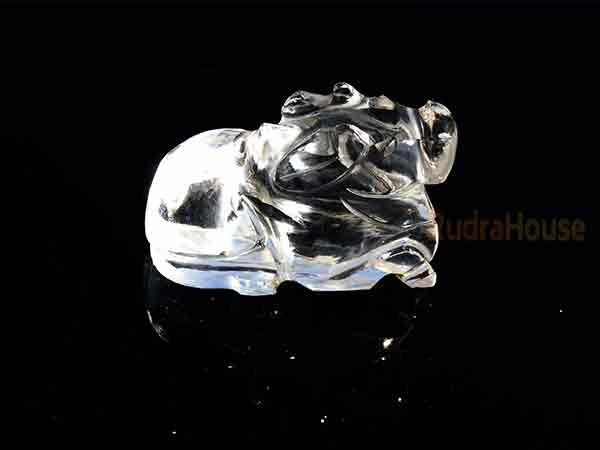 Sphatik Shivlinga with Naag:
Nandi (bull) is the Gana of Lord Shiva and is a gate-guardian deity of Kailash. Nandi always worshiped Shivalinga. Nandi has complete knowledge of Vedas in Hinduism and is a big devotee of Lord Shiva.
Lord Shiva is riding on Nandi only.

Sphatik Nandi is good to keep with Shivalinga at home. A devotee of Lord Shiva always believed that request or asked Nandi anything in his ear. So, Lord Shiva, make it fulfilled. He is a gateway between you and Lord Shiva.
In every temple of Lord Shiva, we have seen Nandi just in front of Lord Shiva because Lord Shiva never worshiped where there is no Nandi. It brings a wish come true, happiness, success, luck, and good fortune in life.

Sphatik (Crystal / Quartz) is a white-shiny transparent stone. According to Astrology, Sphatik is related to Venus. The idol made from Sphatik stone helps concentrate, cools the body, and calms the mind. It is also a form of positive energy and a form of Purity that helps remove obstacles.

Both Shivlinga, Nandi, and Sphatik Stone represent Purity and energy. So worshipping Sphatik Nandi with Shivling is very good at home and in temples.

Rudrahouse gives you a choice to select the Sphatik Shivlinga size, but please let us know by email if you want something different. We will try our best to provide your choice.
We provide you with 100% pure Sphatik—our expert checks carefully before shipping that it is not damaged or cracked.

You may also like to have pure Sphatik Shri Yantra, a symbol of Goddess Durga.

Sphatik Nandi Benefits:
It makes a wish come true.
Protect you from negative energy.
It carries your words to Lord Shiva.
It plays a gateway role from you to Lord Shiva.
It brings happiness, success, and luck and removes obstacles in your life.

If you have any questions, please feel free to call us.
Buy now and bring home Pure Sphatik Nandi to worship with Shivlinga.
| | |
| --- | --- |
| Idol | Sphatik Nandi |
| Good For | To make wish come true |
| Stone | Sphatik |
| Certificate of Authenticity | Included |