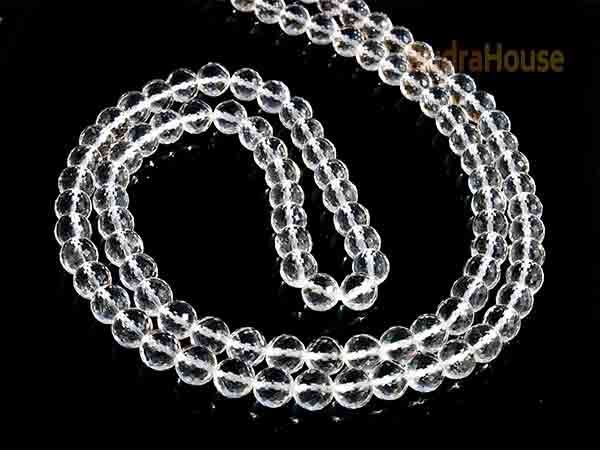 Sphatik Mala Diamond cutting:
In many countries, Sphatik mala diamond cutting is also known as Crystal mala Diamond cut or Cyrstal Mala Necklace Diamond cut. This mala is of 108+1 bead in pure Sphatik. It has good cutting on it, as we can see in the picture of it. There is the perfect cutting of diamond on it, so it is called diamond cut sphatik mala.
This mala is perfect for healing health issues. You can we during meditation/ yoga. It helps to control your emotion and helps you to concentrate on your meditation/ Diyan. It is pure mala for chanting and praying to Goddess Durga Mantra. It makes the mind and your soul pure and energetic.
It is very effective for your health problems. It helps you to control your anger, emotions, mind, feeling, and bold pressure.

This mala can be made in silver chain or can use these beads in Special Rudraksha Mala. This mala looks very beautiful, and it makes your personality.

Sphatik (Crystal / Quartz) is a white-shiny transparent stone. According to Astrology, Sphatik is related to Venus. The idol made from Sphatik stone helps concentrate, cools the body, and calms the mind. It is also a form of positive energy and a form of Purity that helps remove obstacles.

Rudrahouse gives you a choice of a different size, but please let us know by email if you want something different. We will try our best to provide your choice.
We provide you with 100% pure Sphatik—our expert checks carefully before shipping that it is not damaged or cracked.

You may also like a pure Sphatik Mala Button Shape Diamond Cutting. It is perfect for making silver jewelry.
Sphatik Mala Benefits:
It helps to follow positive energy in your body.
It makes you calm and controls your blood pressure.
It makes you feel happy and healthy.
It removes extra heat from your body.
It makes your mind sharp, and you can think creatively.
It helps to control your echo and anger.
It is suitable for healing health.
It helps to open your body's chakras.

If you have any questions, please feel free to call us.
Buy now, heal your health, and it is gorgeous!
| | |
| --- | --- |
| Shape | Round |
| Cutting | Diamond Cut |
| Good For | Health and Peace of Mind |
| Certificate of Authenticity | Included |